<!- Menu Buttons ->
The Age of Homo Sapiens Sapiens: Heaven or Hell
Edward E. Bruessard

---
Retro Web
The Internet has undergone numerous changes since its 1969 text-based inception. Perhaps no other segment of the Internet is symbolic of these changes than the World Wide Web, which is continually evolving. After the World Wide Web's 1989 inception, perhaps one of the biggest changes to occur on the World Wide Web was the development of a graphical browser to navigate it during the early 1990's.
The next major change to occur on the World Wide Web was its commercialization. Did you know that, according to VeriSign, symbolics.com was the first commercially registered website in the world (that is, with the .com designation)? The website symbolics.com was registered on March 15, 1985. The dotcom (.com) boom began with symbolics.com coupled with development of the graphical web browser, and as the saying goes, the rest is web history.
The commercialization of the World Wide Web can be viewed as the pre-eminent factor driving its rapid change today. This website (bruessard.com) was created in 2011. If this website had been created during the early 1990's, then all pages of this bruessard.com website probably would look similar to this "Retro Web" page. The premier web technologies of the early 1990's included HTML, CSS, CGI, SSI, Perl, and Java. During the 1990's, the primary focal point of web processing was the web server.
Fast forward to the 2010's, the "Contempo Web" page of this website is emblematic of the kinds of changes the World Wide Web has undergone since the early 1990's. Some of the more recent developments include the inception of (NoSQL) big-data processing and cloud-based web processing buttressed by web technologies such as HTML5, CSS3, jQuery, Ajax, JSON, and Node.js, to name a few. Future prospects on the horizon include the so-called Internet of Things (IoT) as illustrated by the image and video immediately below.
The Internet of Things: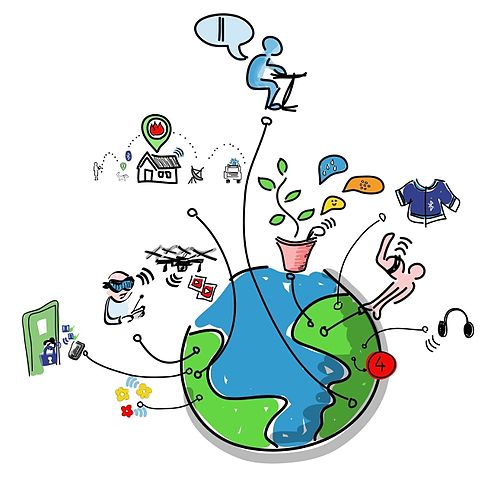 ---
Watch (The Internet of Things: Dr. John Barrett at TEDxCIT)
---
<!- slideshow ->
Wonders of the World
The "California Living" page of this website makes reference to some of the wonders of California. This page examines some of the wonders of the world. See slide show below:
Perhaps the most overlooked—yet greatest—wonder of them all is none other than planet Earth itself including the miracle of life on Earth. The question remains: What will Earth's human caretakers do with this greatest wonder of them all? Will they pillage and plunder it, or will they nourish and cherish it?
ADDITIONAL "WONDERS OF THE WORLD" RESOURCES:
---
<!- Songs ->
Wrapping Up
I wish to close this page by paying homage to the retro web. The following songs are meant to reflect nostalgically on the way it was on the World Wide Web during the early 1990's. In deference to the web of the past, here's a musical trip down memory lane.
Watch (Barbra Streisand, The Way We Were)
---
Watch (Diana Ross & The Supremes, Someday We'll Be Together)
---
<!- Footer ->

Contempo Web | About Us | Contact Us | Social Media | Products | Site Resources] | Site Map | Main Page



FLATTR THIS SITE:








Intellectual Property Disclosures: All videos and songs (as well as many of the images) referenced or spotlighted throughout this website are the legal and intellectual properties of others. All content and opinions on this website (bruessard.com) are those of the author (Edward Bruessard) exclusively and do not necessarily reflect the opinions of the contributors, creators, owners, and distributors of these referenced videos, songs, and images. The author holds no legal interest or financial stake in any of these referenced videos, songs, and images. The contributors, creators, owners, and distributors of these referenced videos, songs, and images played no role at all regarding the appearance of said videos, songs, and images throughout this website; they had no clue that this website would be spotlighting their works.




<!- Copyright ->