PARADE OF LIFE
GO TO BOTTOM OF PAGE
A great deal of controversy surrounds the question of how life began on Earth. Few, however, will dispute the fact that life exists. The purpose of this page is to pay homage to the parade of life that has existed on Earth in the distant past. It also pays homage to the menagerie of life that exists right now on Earth—and in the future, too. This page emphasizes the length of time that various life forms have existed on Earth.
Because I am a proponent of the scientific educational method, the videos, graphics, and table below are based on the prevailing scientific view. At the present moment in Earth's history, it so happens that humans hold dominion over life on Earth. Some humans and some societies become arrogant. These arrogant humans begin to view themselves as invincible and unstoppable. Sadfully and unfortunately to say, human history is filled with examples of some countries seeking dominion over other countries, some races seeking dominion over other races, some religions seeking dominion over other religions, and so forth. When will it end? Hopefully, the aggrandizements will end before humans destroy themselves and before humans destroy life on Earth in the process.
Natural disasters serve as constant reminders to humans that they do not hold dominion over Mother Nature. In an instant, one asteroid strike or a massive solar disturbance inside the Sun could destroy all life on Earth, and, indeed, could destroy Earth itself. Not only should humans be grateful for the privilege of participating in the miracle of life but also humans should be thankful for inheriting a relatively (but not completely) stable, serene, and hospitable planet Earth. While human life can suddenly come to a halt, the Universe and its components will persist (such as galaxies and stars).
Watch (What Is a Planet?)
---
Watch (Earth From Space | Nova)
---
THE PARADE OF LIFE
Watch (A Flight through the Universe, by the Sloan Digital Sky Survey)
---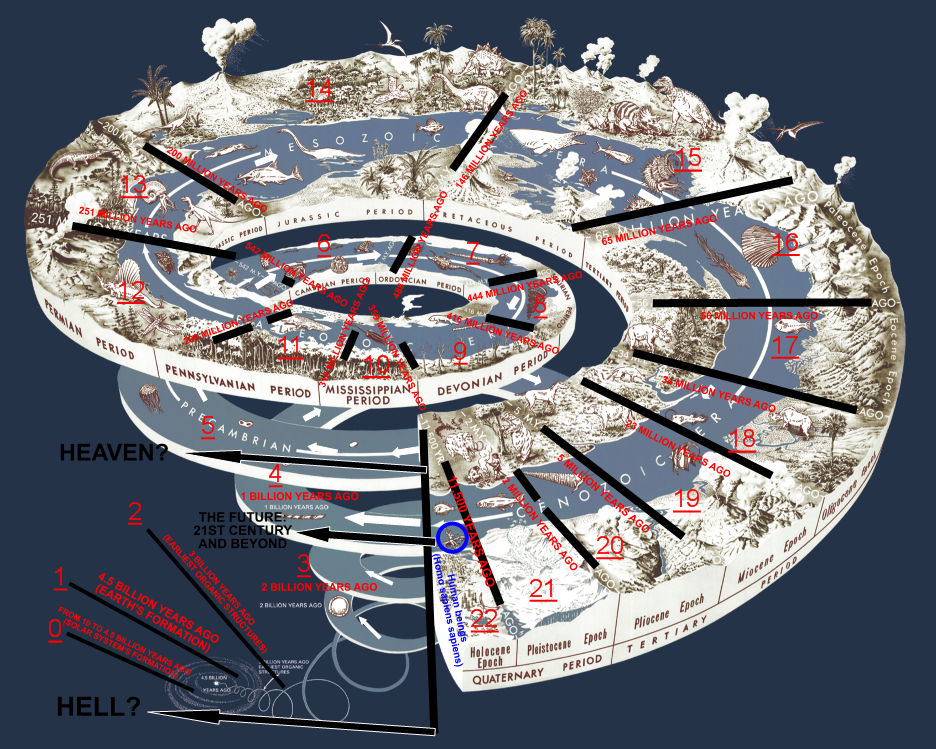 ---
Watch (Humanity's Epoch: ANTHROPOCENE)
The next graphic and table offer additional views of the geologic time scale and the parade of life on Earth. The graphic below shows that, for most of the Earth 4.6-billion-year history, that is, 87% or 4 billion years, the Earth has served as host to very simple (and mainly single-celled) life forms. Life on Earth became more complex and diverse over the last 600 million years or during the last 13% of Earth's history. Modern humans only have existed for 0.0002% of the Earth's 4.6-billion-year history. In other words, the reign of humans has just begun. What kind of stewards of Earth will humans turn out to be?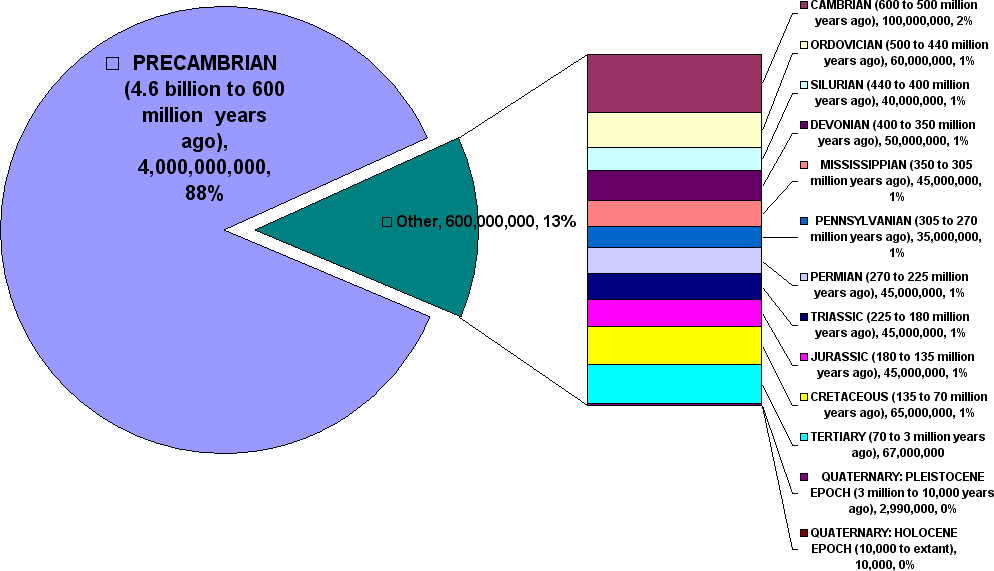 GEOLOGIC TIME SCALE AND THE PARADE OF LIFE ON EARTH
PERIOD / EPOCH (APPROXIMATE YEARS AGO)
PERIOD START (YEARS AGO)
PERIOD END (YEARS AGO)
PERIOD DURATION (APPROXIMATE NUMBER OF YEARS)
MAJOR DEVELOPMENTS DURING PERIOD
LIFE FORM PREEMINENT DURING PERIOD
UNIVERSE (20 to 10 billion years ago)
13,700,000,000
Extant
Currently in progress
Universe appears with billions of galaxies
SOLAR SYSTEM (10 to 4.6 billion years ago)
10,000,000,000
Extant
Currently in progress
Sun and planets appear within Milky Way galaxy
PRECAMBRIAN (4.6 billion to 600 million years ago)
4,600,000,000
600,000,000
4,000,000,000
Unicellular, microscopic life forms appear on Earth
The Age of Bacteria and Algae
CAMBRIAN (600 to 500 million years ago)
600,000,000
500,000,000
100,000,000
Multicellular, water-bound, macroscopic life forms appear
The Age of the Trilobites
ORDOVICIAN (500 to 440 million years ago)
500,000,000
440,000,000
60,000,000
First animals with shells appear; jawless fishes appear
The Age of the Fishes
SILURIAN (440 to 400 million years ago)
440,000,000
400,000,000
40,000,000
Plants populate Earth; first fishes with jaws appear
The Age of the Land Plants
DEVONIAN (400 to 350 million years ago)
400,000,000
350,000,000
50,000,000
Amphibians and insects populate Earth; spread of vascular land plants
The Age of the Insects
MISSISSIPPIAN (350 to 305 million years ago)
350,000,000
305,000,000
45,000,000
Amphibians become widespread; first conifer-like plants appear
The Age of the Amphibians
PENNSYLVANIAN (305 to 270 million years ago)
305,000,000
270,000,000
35,000,000
First reptiles and coal-forming forests appear
The Age of the Trees
PERMIAN (270 to 225 million years ago)
270,000,000
225,000,000
45,000,000
Reptiles become widespread; first mammal-like reptiles and modern insects appear
TRIASSIC (225 to 180 million years ago)
225,000,000
180,000,000
45,000,000
First dinosaurs and mammals appear
JURASSIC (180 to 135 million years ago)
180,000,000
135,000,000
45,000,000
Giant dinosaurs become widespread; first flying reptiles and birds appear
The Age of the Giant Reptiles
CRETACEOUS (135 to 70 million years ago)
135,000,000
70,000,000
65,000,000
First flowering plants appear; bony fishes become widespread; zenith of dinosaurs followed by extinction
The Age of the Flowering Plants
TERTIARY (70 to 3 million years ago)
70,000,000
3,000,000
67,000,000
Flowering plants (Eocene Epoch) and mammals (Oligocene Epoch) become widespread
The Age of the Mammals
QUATERNARY: PLEISTOCENE EPOCH (3 million to 10,000 years ago)
3,000,000
10,000
2,990,000
The hominids emerge (Homo habilis, Homo erectus, and Homo sapiens)
The Age of Homo Sapiens
QUATERNARY: HOLOCENE EPOCH (10,000 to extant)
10,000
Extant
Currently in progress
Modern human beings (Homo sapiens sapiens) become widespread; humans domesticate plants and animals; farming villages emerge; trend towards urbanization with rapid transportation and global communications
The Age of Homo Sapiens Sapiens
CHIEF DATA SOURCE FOR GEOLOGIC TIME AND YEARS:
MARTIN BRAMWELL (EDITOR), THE RAND MCNALLY ATLAS OF WORLD WILDLIFE. (CHICAGO, IL: RAND MCNALLY AND COMPANY/MITCHELL BEAZLEY, LTD., 1973), PAGE 11.

NOTE: YEARS ABOVE WERE ROUNDED BY AUTHOR FOR READABILITY EASE. FOR GREATER GEOLOGIC DATING PRECISION, SEE ALSO:

http://www.ucmp.berkeley.edu/help/timeform.php
http://pubs.usgs.gov/fs/2007/3015/
http://pubs.usgs.gov/gip/geotime/contents.html

---
What's next for humans? How will the future unfold? Will humans perfect interstellar space travel and interstellar living? It is preferable for humans to achieve a perfect world of Heaven right here on Earth to benefit the living, which I believe they eventually will accomplish in time, instead of them sitting around and spending their time thinking about primitive stuff like going to war with or killing one another?
To be sure, some think that perhaps the biggest threat to human survival is not some calamity occurring in Nature. Some believe that the biggest threat to human survival is none other than human beings themselves. Some think that human events such as the outbreak of a global nuclear, biological, or chemical war; irreparable damage to the ozone layer, out-of-control global warming, and a greenhouse effect covering Earth due to out-of-control pollution of the environment; a genetic engineering mishap or a nano technology catastrophe of pandemic proportions; and so forth, can cause life on Earth to go silent.
Moving into the future, will humans harness science and technology nonchalantly in a flippant manner, or will humans exercise an overabundance of caution while engaged in the practice of high science and high technology for the benefit of humankind? Looking at the past, up to this point in human history, it should be emphasized that science and technology, by far, have greatly benefited humans. All in all, up to this point in human history, it has to be concluded that science and technology have raised global living standards and have extended the human life span.
Listen to (Steel Pulse, Wild Goose Chase)
---
Listen to (Jeff Wayne featuring Julie Covington and Phil Lynott, The Spirit Of Man)
---
Watch (Cosmic Journeys: Earth in 1000 Years)
---
Watch (Future's 10 Events That Could Wipe Out Humanity)
---
Watch (Sade, Soldier of Love)
---
A NEW BEGINNING: IN SEARCH OF A BETTER WAY FORWARD AND SOMETHING NEW UNDER THE SUN—IT'S ALL ABOUT HUMAN SURVIVAL AND PROGRESS
Planet Earth, at least from a distance such as from the distance of space, can be viewed as one gigantic breathing organism. Much like any single life form on Earth, Planet Earth, too, is capable of dying. Planet Earth can become just as barren and void of life as, say, Mercury or Venus. If humans are to survive or if they are to avoid extinction, then one thing is clear: Humans must learn how to become far better caretakers of Earth. Humans must learn how to get along with one another (regardless of their race, color, creed, ethnicity, gender, sexual orientation, religious belief, age, disability, national origin, socioeconomic birth status, political ideology, and so forth) on this interconnected planet.
Listen to (Earth, Wind & Fire, Faces)
---
Listen to (John Lennon - Imagine)
---
Listen to (The S.O.S. Band, Do It Now)
Watch (The S.O.S. Band, Do It Now)
---
FLATTR THIS SITE:
---
SEARCH THIS SITE:
---
Intellectual Property Disclosures: All videos and songs (as well as many of the images) referenced or spotlighted throughout this website are the legal and intellectual properties of others. All content and opinions on this website (bruessard.com) are those of the author (Edward Bruessard) exclusively and do not necessarily reflect the opinions of the contributors, creators, owners, and distributors of these referenced videos, songs, and images. The author holds no legal interest or financial stake in any of these referenced videos, songs, and images. The contributors, creators, owners, and distributors of these referenced videos, songs, and images played no role at all regarding the appearance of said videos, songs, and images throughout this website; they had no clue that this website would be spotlighting their works.
---